Walking
You can easily walk around the World Heritage zone as they are all interconnected and very near to each other.
You can cover the Stadhuys, Jonker Street, A Famosa, St Paul Hill and end up in the shopping centres Dataran Pahlwan and Mahkota Parade all by foot.
Green Mobility
E-Scooter
For those looking to navigate Melaka in a fun and eco-friendly way, Beam e-scooters offer a fantastic alternative. These e-scooters provide an efficient and convenient mode of short-distance travel, allowing you to zip through the city and explore hidden gems effortlessly.
As a special promotion, use our promo code Bv1ei to receive RM2.50 in free Beam ride credit, making your journey around Melaka even more enjoyable.
Cycling
For the active traveler, bicycles are available for rent at various points throughout the city. Melaka is a bicycle friendly city with many designated cycling lanes.
Cycling is not only a healthy choice but also an eco-friendly way to cover more ground and explore the city's hidden treasures.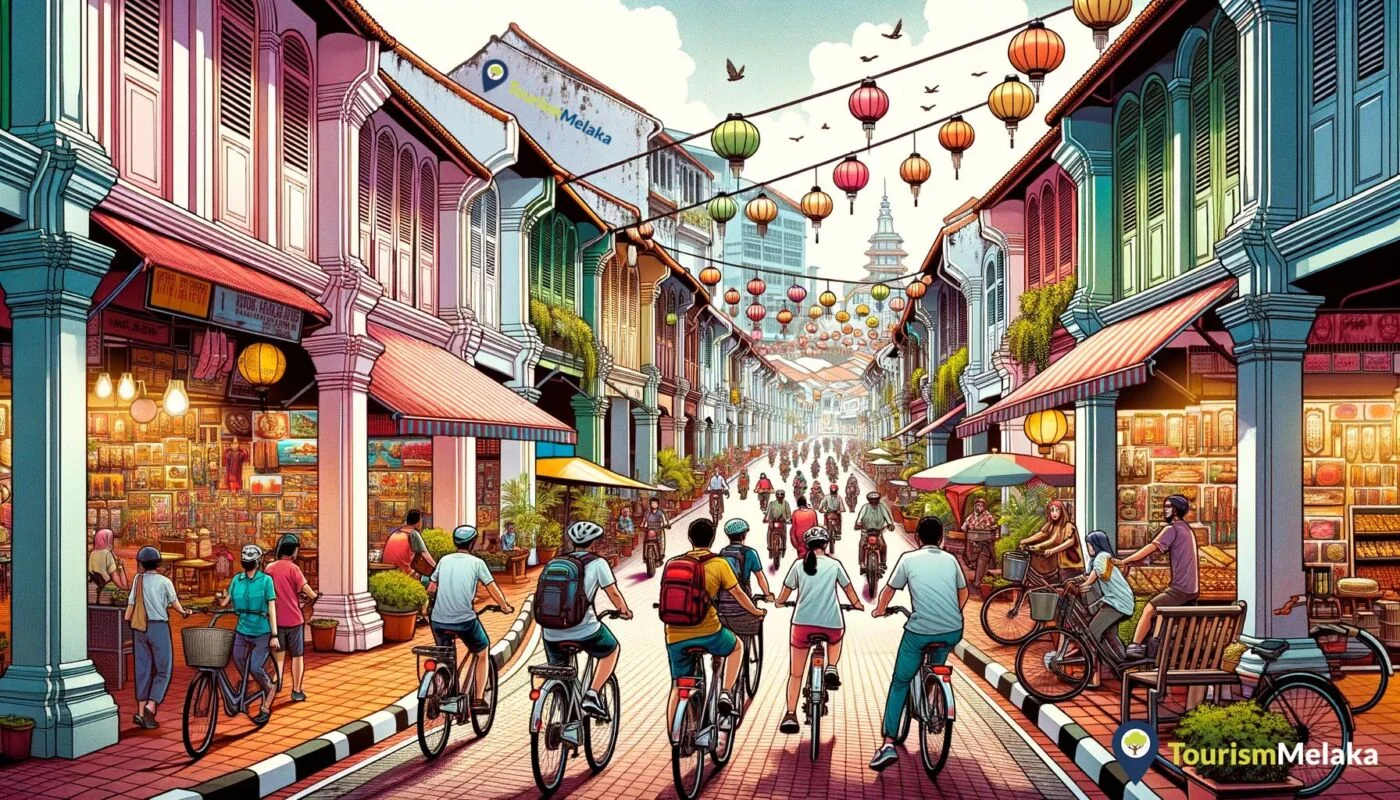 Public Transport
Public Buses (Panorama Melaka)
For convenient and cost-effective public transport in Melaka, look no further than the comprehensive services offered by Panorama Melaka buses. As the exclusive operator of public buses in Melaka, Panorama Melaka provides extensive connectivity across the city, ensuring that all major attractions and districts are easily accessible. In 2023, the company has broadened payment options to include cash, debit cards, credit cards, and a variety of contactless/NFC methods such as Apple Pay, Google Pay, and Samsung Pay, catering to the convenience of all passengers.
Further enhancing the commuter experience, Panorama Melaka offers the SMART Journey Melaka app, available for Android in the Google Play Store. This intuitive ETA GPS Journey Planner application delivers essential information regarding bus service schedules, bus stops, and routes throughout the city, simplifying navigation for both residents and tourists in Melaka.
Bus-on-demand (Kumpool Kasturi)
Navigate Melaka with ease using 'Kumpool Kasturi,' a bus-on-demand and ride-pooling service that revolutionizes urban mobility. For a minimum charge of just RM1, this service allows you to share your journey with others heading in the same direction, maximizing efficiency and minimizing costs. Simply book a ride through the 'Kumpool' app and enjoy Melaka's charm without the hassle of traditional transport schedules.
'Kumpool Kasturi' not only simplifies travel with its on-demand approach, allowing you to request a bus when and where you need it, but also fosters a sustainable way to explore, by matching you with other riders. This reduces the number of vehicles on the road, alleviates traffic, and provides a greener footprint for your adventures within a seven-kilometer radius of the city's historic core.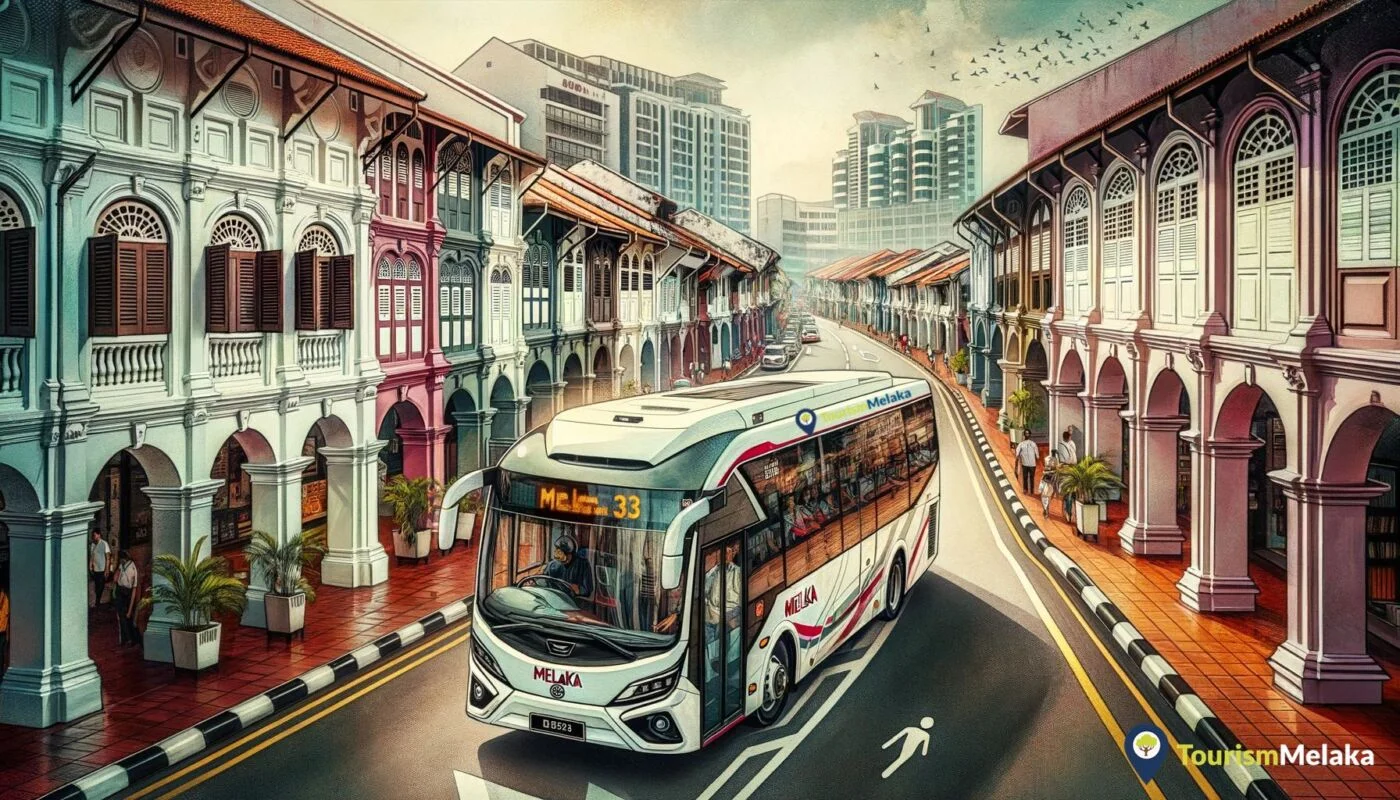 On Demand Rides
Ride-sharing / Ride-hailing
Melaka is served by various ride-sharing or ride-hailing services like Grab (also known as GrabCar or formerly known as MyTeksi) and they offer a convenient and efficient way to move around Melaka City.
They provide the comfort of private transportation and the ability to travel longer distances in a shorter amount of time.
Grab offers a fixed upfront fee which is calculated based on the distance of your destination, the current demand and traffic condition.
AirAsia Ride is another ride-hailing option available in Melaka. While their pricing tends to be more competitive, they have fewer cars available compared to Grab, making them a viable but less frequent alternative.
Besides Grab and AirAsia Ride, other smaller ride-hailing companies in Melaka include MyCar, EzCab and MULA. Melaka used to be served by Uber as well but they've merged their South East Asia's operation with Grab.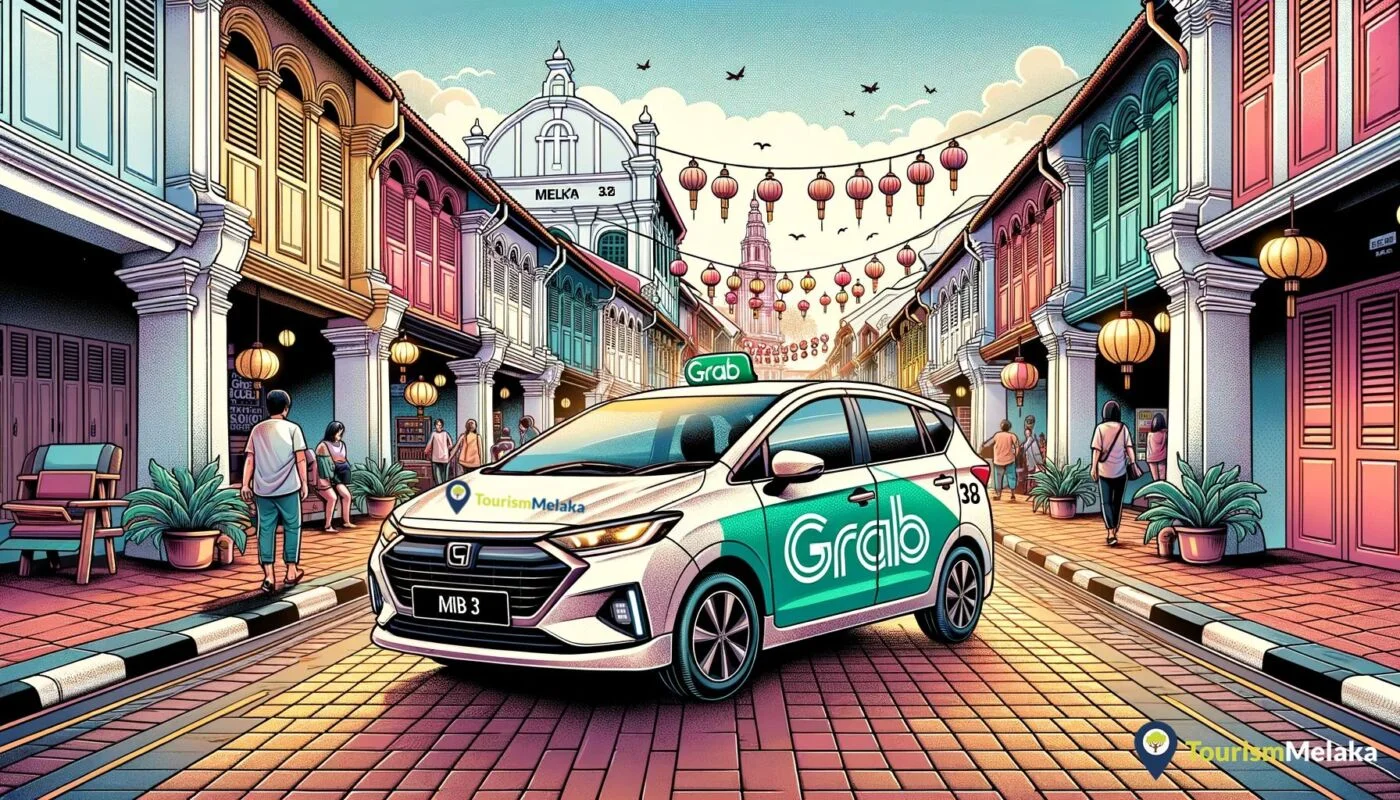 Taxis
Local taxis can be hailed from roadside or booked with the Grab ridesharing app (which doubles as a taxi hailing app).
While all taxis are equipped with taximeters, some taxi drivers will not use them but will instead will offer an upfront fee. Expect to haggle for a lower price as the price offered can be quite high, especially if you are a tourist or during peak seasons or bad weather.
Driving & Rentals
Personal Vehicles
Driving in Melaka remains one of the most convenient methods for getting around, thanks to its extensive road network. While major roads outside the historical areas are generally wide and easy to navigate, the streets within the heritage zone can be narrow, requiring extra caution.
Expect higher traffic volumes during weekends (Friday through Sunday) when the UNESCO World Heritage City attracts tourists globally. Additionally, since August 2023, every Saturday from 6:00 pm to 12:00 midnight, a car-free zone is enacted. This means roads along St Francis Xavier Church, Christ Church, Stadhuys, and Jonker Street (specifically Jalan Istana, Jalan Mahkamah, Jalan Gereja, Lorong Gereja, Jalan Laksamana, and parts of Jalan Tun Khalil Yaakob and Jalan Merdeka) are closed to vehicular traffic.
Numerous roadside parking options are available, requiring the display of local council (MBMB and MBHTJ) parking coupons on your dashboard. These coupons are readily sold in shops and come in booklets, valid for either 30 minutes at RM0.40 or 60 minutes at RM0.60. Alternatively, you can use the SmartParking Melaka app for more convenience. Paid parking is enforced from Wednesday to Sunday between the hours of 9:00 am to 5:00 pm, while parking is free on Mondays, Tuesdays, and public holidays. This arrangement started in June 2020 and is still in place as of 2023.
For those preferring private parking lots, expect a fixed entry fee ranging from RM2 to RM10, depending on location and time.
Car Rentals
Discover the joys of Melaka City and its scenic outskirts at your own pace by renting a car. Car rentals in Melaka offer a range of vehicles to suit every traveler's need, from solo adventurers to family vacationers.
International visitors can navigate the roads of Malaysia effortlessly, as foreign driver's licenses are widely accepted. We recommend carrying an international driving permit in addition to your home country's license for a hassle-free experience during your stay, valid for up to 90 days. Singaporean drivers, you're in for a treat – your license is all you need for short-term visits, making the drive as straightforward as it is back home. If your license is issued in a language other than English, remember to bring along an English translation to meet the local regulations.
To ensure a smooth and efficient start to your explorations, we recommend booking your car online. Doing so guarantees that your preferred vehicle will be ready upon your arrival. Additionally, online booking allows you to bypass the queues, facilitating a seamless adventure right from the start.
Unlock an exclusive 10% discount (total discount capped at RM50) on car rentals and all activities with our partner Klook by entering the promo code:

In addition to that, enjoy RM100 OFF with a minimum spend of RM1000 for car rentals and all activities with our partner Klook by entering the promo code:

Offer valid until 1 January 2024.
Unlock an exclusive 10% discount on car rentals with our partner Klook, specially tailored for Visa credit card holders from Malaysia, Hong Kong, India, Thailand, Vietnam, and Japan.

To claim your discount, checkout with your Visa credit card and enter your region-specific promo code:

Offer valid until 30 November 2023.
Trishaw
Experience the city's charm on a traditional trishaw (Malay: beca | Chinese: 三轮车), where a leisurely ride will take you through the heart of Melaka's historical landmarks.
Adorned with colorful decorations and often playing nostalgic tunes, trishaws offer a unique and personal way to discover the city at a relaxed pace.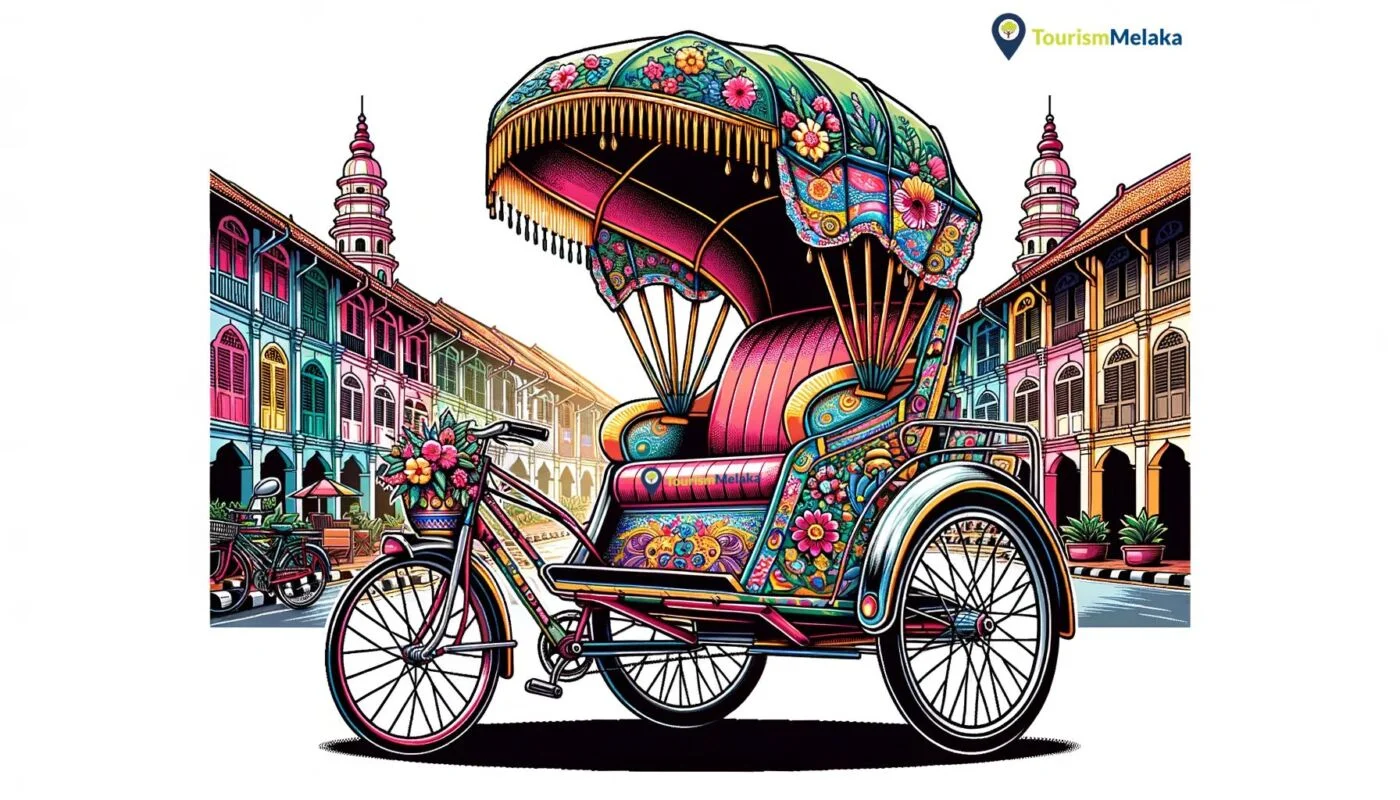 Water Taxi
Discover the charm of Melaka from its lifeblood, the Melaka River, with the city's water taxi service. Launched in May 2023, this scenic commute takes you through the pulse of the city, connecting you effortlessly with major attractions. Glide past the historic Stadhuys, the vibrant enclave of Hard Rock Cafe, and the luxurious Casa Del Rio. Each stop is a portal to the cultural and modern blend that makes Melaka unique, with the water taxi ensuring you arrive in style and comfort.
Operating daily from 9:00 AM to 11:00 PM, the water taxi is not just a ride but an essential part of the Melaka experience, offering you the freedom to travel to and from hotels and locations like RC Hotel, The Shore Sky Tower, and The Pines at your own pace. Affordably priced, with each segment of the journey costing just RM1 and the full route available for RM8, the water taxi is an economical way to witness the city's most famous sights from a serene river perspective